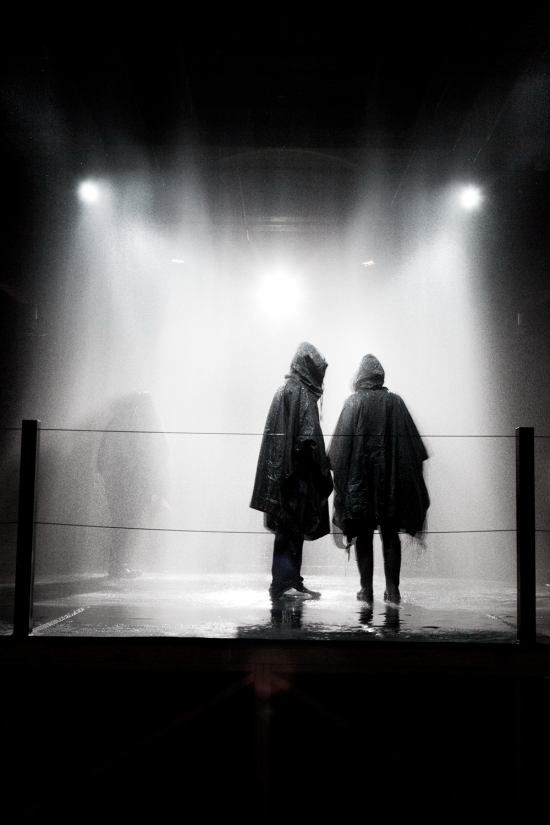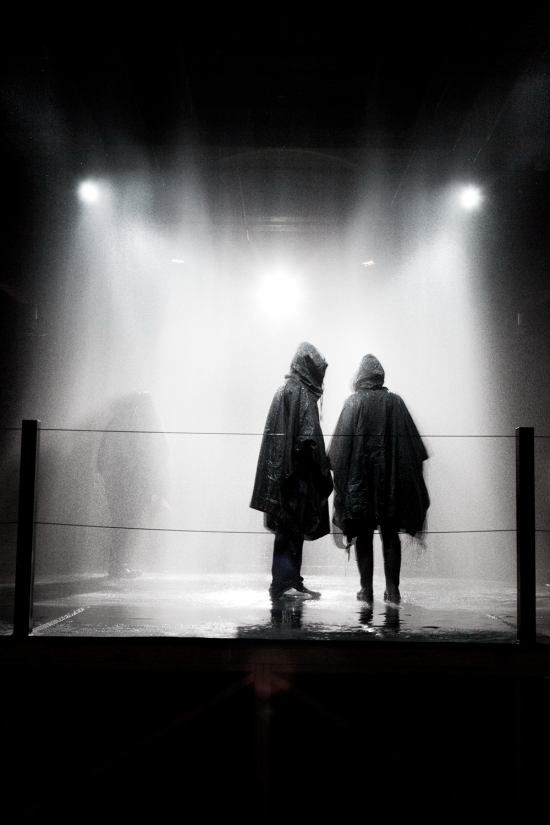 Our Frozen Moment
2012
Water, irrigation system, strobe lighting, pine structure, recycled rubber, wire balustrade, gum boots, rain ponchos
Installation view: The Carriageworks, Sydney. Photography: Silversalt
Our Frozen Moment was a large-scale experiment in space, light and the possibilities that shape our perception of the universe. Presented as a stage-like set, the viewer was invited to step into a 'field of stars' as a mass of tiny droplets spark briefly into existence before disappearing from view.
Reminiscent of the dizzy sensation associated with 'seeing stars' Our Frozen Moment created a shift in perception. Stepping into the rain, one struggled to focus on the mist of tiny flashes being created before one's eyes, as an ever-advancing succession of frozen moments unfolded. Fellow viewers became accomplices in the experience, rain-coat-clad observers in a field of stars.
Referencing optical phenomena such as 'prisoner's cinema', the atmospheric condition 'diamond dust', and so-called 'frozen' stars thought by scientists to be fuelled by dark matter, Our Frozen Moment continues the artists' investigation into perception, optical ambiguities, and the transition of matter between visible and invisible states. Seeking gaps or fissures in the way that we build our impression of reality, Our Frozen Moment flickered between the macro and micro, the viewer's perception becoming the subject of the work as they moved from observer to participant in the space.
Hovering between the realms of theatre, science and spectacle, Our Frozen Moment created a universe around the viewer, as they become a performer in their own stage set, a unique position on the space-time continuum frozen momentarily for view.
Our Frozen Moment was commissioned by Performance Space, Sydney.
This project has been assisted by the Australian Government through the Australia Council, its arts funding and advisory body.