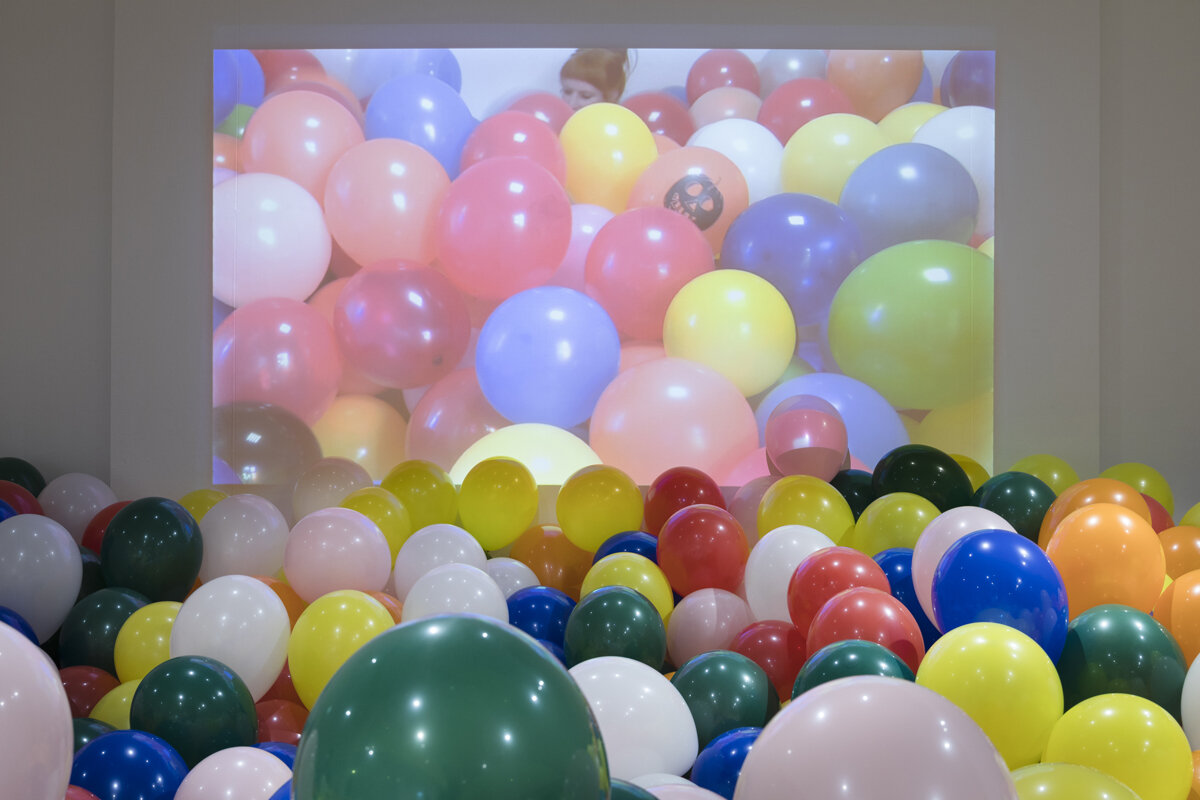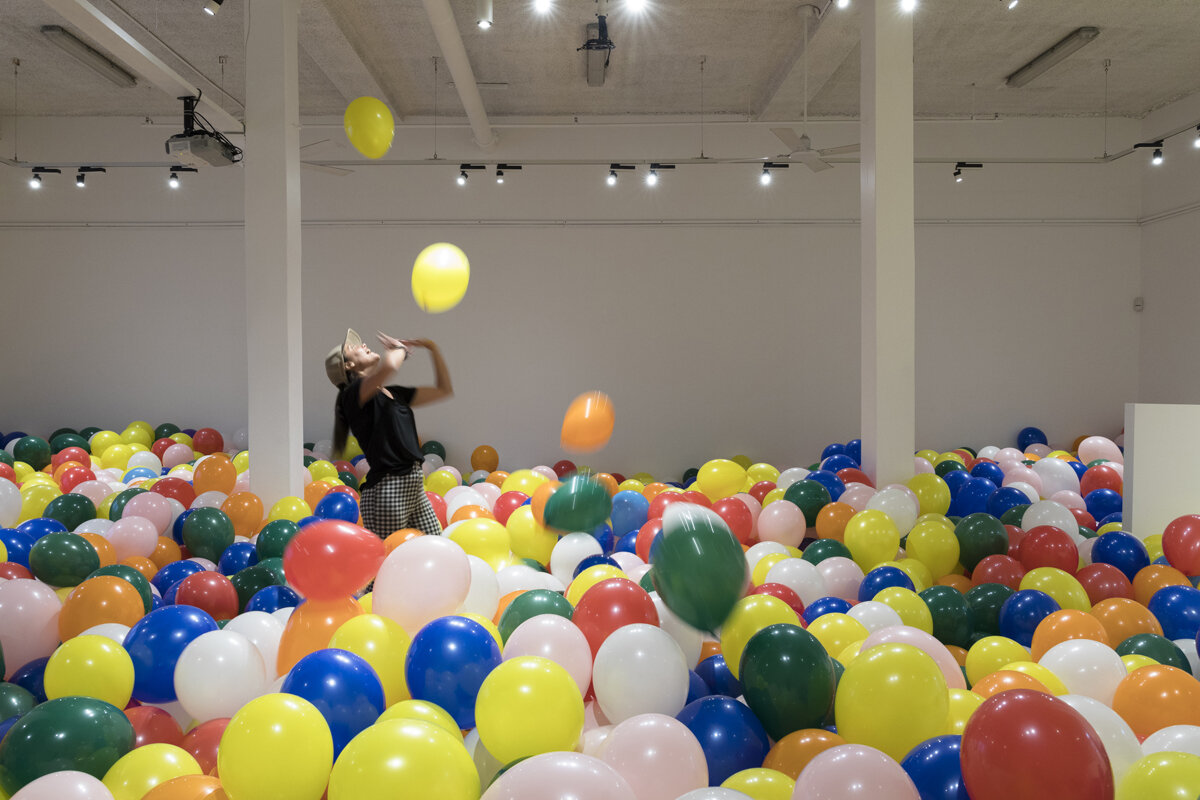 Michaela Gleave
7 Stunden Ballonarbiet/7 Hour Balloon Work
2010/19
Documentation of performance, balloons
7 Stunden Ballonarbiet/7 Hour Balloon Work documents a live video performance that was streamed via Skype between Berlin and Sydney on the 10th of August 2010. For seven hours artist Michaela Gleave sat in her studio in Berlin continuously blowing up balloons, gradually filling the space until she buried herself under her labours. At the completion of the performance the artist popped all the balloons and left the room.
Originally performed as part of 'Choose Your Own Adventure' curated by Amelia Groom for FBI Radio, Sydney, the work was live streamed to the Oxford Art Factory as part of a one-night only event. Responding to this celebratory context, the performance utilised the ephemerality and apparent frivolity of balloons to explore more complex concepts of space, time, materiality and value.
Performed remotely the project considered art-historical notions of 'liveness', embracing the temporal simultaneity yet geographical remove facilitated by the internet. Time, space and matter expanded and contracted as the distance between the performer and audience was bridged in a very tactile exploration of what it means to travel from one side of the globe to the other. An early example of online performance art in Australia, the work embraced pop-cultural references, working with readily available materials as a way of coming to terms with the space, air and distance between the artist's home in Sydney, and the studio in Berlin in which the work was performed.
Corresponding with the once-standard seven-hour working day, the project also questioned ideas of labour, addressing in particular the often-Sisyphean nature of contemporary work. Engaged in a repetitive act that slowly consumed her, the artist methodically selected and placed colours in an almost painterly fashion as she slowly built the on-screen composition. Once complete, instead of rejoicing in the outcome the artist immediately destroyed the work, releasing air back into space, with scraps of coloured latex the only evidence of the action.
For Bondi Pavilion Gleave revisited 7 Stunden Ballonarbiet/7 Hour Balloon Work as an installation environment, projecting video documentation of the performance into the gallery space amid a sea of coloured balloons. Audiences were afforded the opportunity of playing in the balloons that original audience was denied, with the archival footage re-edited, seven hours rendered down into 17 minutes in an almost comical condensation of time. Ambient light shifts and changes in colour colour disclose the periods of time elapsed between cuts, the image created building in stages over the duration of the video before its all destroyed and the work starts again.
With thanks to Elizabeth Reidy, Todd Fuller and the amazing team at Bondi Pavilion Gallery for all their hard work in making this project happen. No balloons were released into the environment as part of this project. All balloons were 100% latex, responsibly sourced, and have been recycled into surgical gloves at the end of the project.